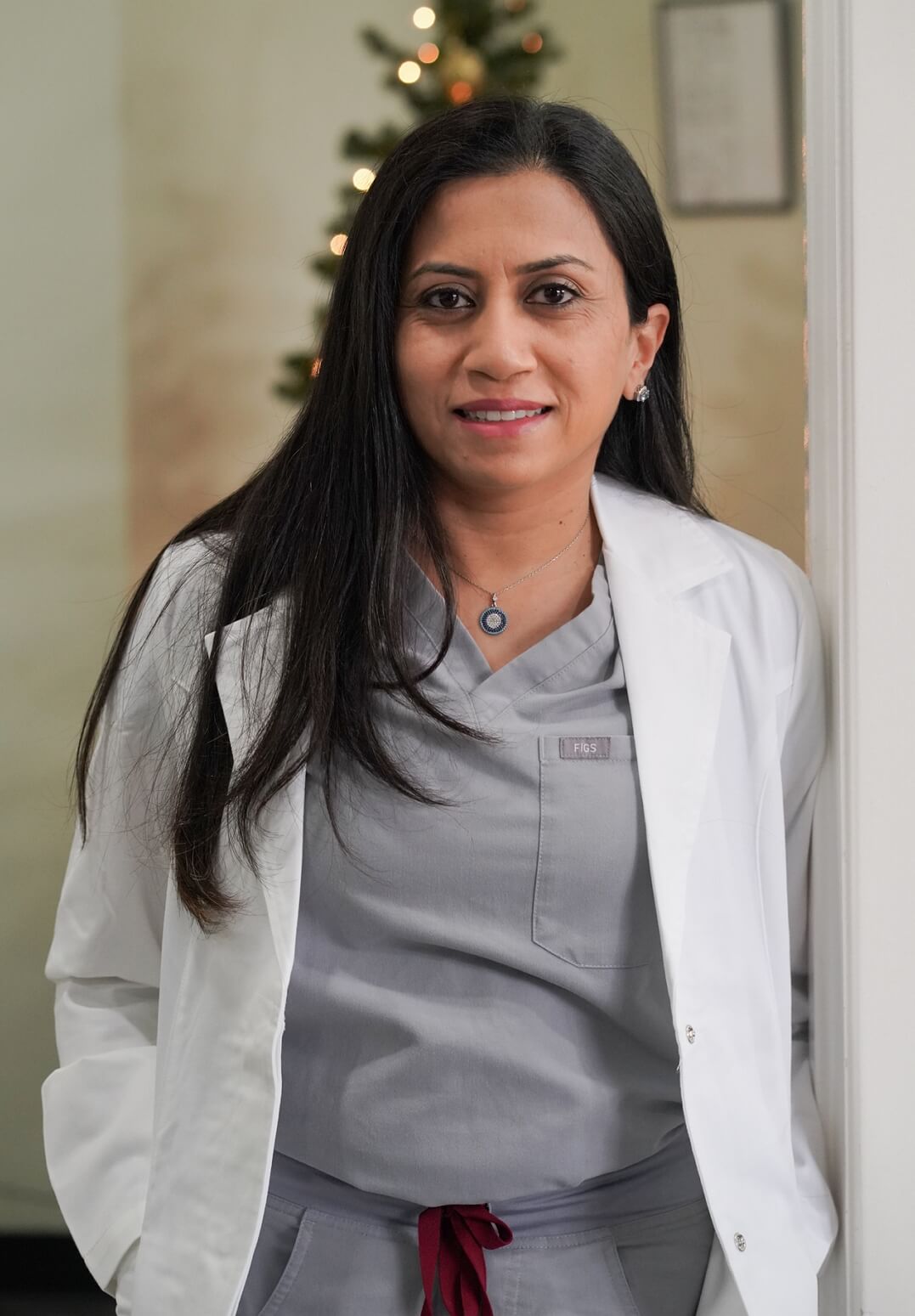 Book appointment
Fill this form
Dr. Bindeshwari Korat graduated from University of Medicine and Dentistry of New Jersey which is now known as Rutgers School of Dental Medicine with high honors and was in Dean's list. After completion of Dental School, Dr. Korat pursued 1 year residency at Rutgers where she treated Medically compromised patients and gained her expertise in geriatric dental care, hospital dentistry, treatment of special needs patients and infectious disease patients. After residency, Dr. Korat moved to Houston, TX where she has been practicing since 2011.
Dr. Korat is at the forefront of the best practices and developments in modern dentistry. She is a member of American Dental Association and Academy of General Dentistry.
Dr. Korat was born and raised in India before moving to the United States. Dr. Korat enjoys spending time with her family when she is not practicing dentistry. Her other interests are cooking, painting, reading and gardening. She enjoys playing badminton.
Dr.Korat has lived in Sugar Land since she moved from New Jersey. Dr. Korat worked as dental director before establishing Ace Family Dental in Sugar Land. Dr. Korat has established Ace Family Dental with the goal of providing top notch dental care with integrity, compassion and family values which she has found missing more often than not at the other dental practices.
Training
Rutgers School of Dental Medicine with high honors and was in Dean's list
Work days
Monday
Tuesday
Wednesday
Thursday
Friday
Saturday
polite, professional, timely, attentive, and helpful.
Visited this dental clinic for a dental checkup and treatment. I was seen by Dr. Bindi Korat. The doctor is excellent in her skills and extremely knowledgeable. She was highly enthusiastic and positive. Kept me comfortable throughout the treatment. She was very attentive to hygiene also. Front-desk is polite, professional, timely, attentive, and helpful.
Awesome as always
Awesome as always! All staff and Dr. Korat are always kind, caring, and professional. Our family loves Ace Family Dental. I got Invisalign done on a payment plan. Thanks for continuing to take care of our dental health during these trying times in our world. May God bless each of you and keep you safe and healthy as you serve our community.
Best place for painless and inexpensive dentistry
The best place for painless and inexpensive dentistry. I didn't have insurance and their prices were better than other people. They were good because they only recommended things I needed, my previous dentist told me I needed 10 fillings but I actually only needed 4 and Doctor Korat showed me the pictures and where the cavities were and how to prevent future cavities. Highly recommended to folks seeking honest and caring doctor!
Dr. Korat helped me with dental emergency on Christmas Eve
Thank you lord Jesus for Dr. Korat !! I broke my front tooth and I called so many people but they were closed. I called this office today on Christmas Eve and Dr. Korat answered his emergency line and came in office just for me and fixed my tooth in 15 mins with no pain and looks great! My Christmas was going to be ruined but he saved my family gathering! He is caring guy and they opened the office just for me!! Thank you lord for such a caring, genuine guy and when I said I am a veteran he didn't charge me a dime and wished me Happy Holidays and Merry Christmas!! What a blessing! Can't thank them enough!